Joy and Clarity Newsletter, June 2014
If you enjoy reading this material, please forward it to a friend.
If this was forwarded to you, we would love for you to Join Our Mailing List.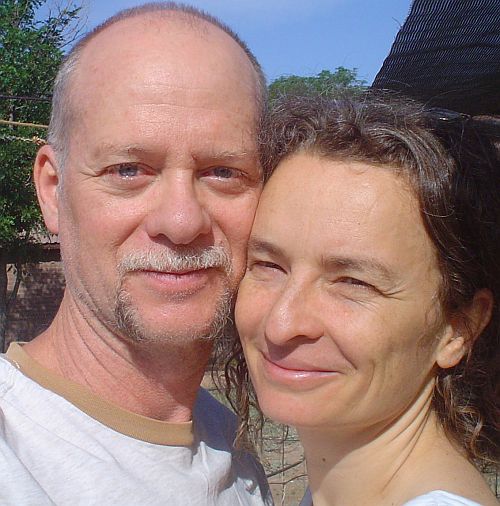 Hello Everyone,

Summer is coming very fast around here, in the Northern Hemisphere, and our garden is finally thriving after a few setbacks over the last few months. We are really enjoying the time that we can spend outdoors to care for our plants and wildlife, and we can't think of a better way to celebrate the (Summer) Solstice than by being connected to the Earth. Happy Solstice to you, wherever you are in the world, dear friends.

In the last two weeks we've heard from many friends, clients and readers, who are going through some rough time. They were hit pretty hard, and Mercury and Neptune now being Retrograde didn't help much either. Navigating such times can be quite difficult, especially when you deal with conflictual relationships in your family, or when you try to overcome your doubts and insecurity.

To help you at this time, we have prepared a few tools for you:
Enjoy and lots of love,
Alexandra and Dan

Saint-Germain, "Got Bumpy Lately?"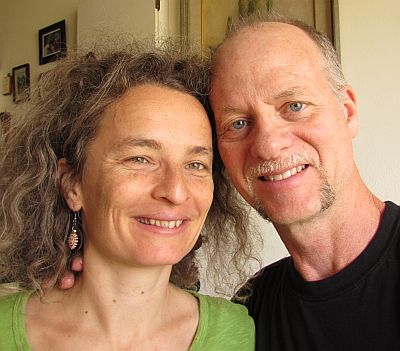 June Solstice: Got Bumpy Lately?
A Saint-Germain Channeling
By Alexandra and Dan

A wave of sadness and hopelessness has had you in its grip for a while now. You struggle to understand what you feel, and the more you try, the more it seems that you are not reaching any place of resolution.

You ask yourself, "So what happened to all the promises of a great change, and finally feeling that I have arrived?" And it is not helping you to listen to the answer, because the answer doesn't seem to come to you.

As this feeling of gloom only seems to increase, you find that you have nowhere to turn. You've done so much work on yourself and you've prepared for such a long time, yet the results are nowhere to be seen.

"It's too much and I can't take it anymore," you may be thinking to yourself.

Continue reading
Saint-Germain, What Is the Higher Purpose of My Life?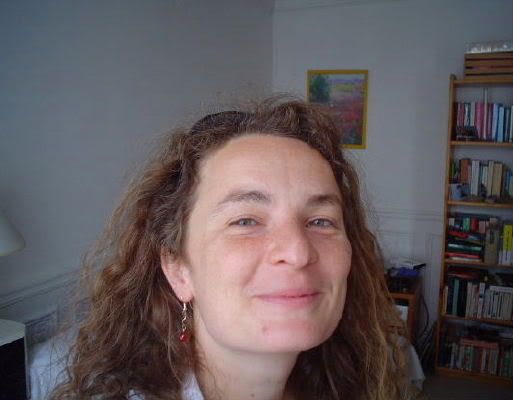 What Is the Higher Purpose of My Life?
A Saint-Germain Channeling
By Alexandra and Dan

Dear Saint-Germain, the pressure of the past few weeks has been the most intense I have ever felt. It's gotten to the point that I actually thought I wouldn't be able to continue my journey through life. Now I realize that I must change the way I am traveling my life path. Part of my problem is this: I feel overwhelmed by shallow, New Age chatter. Instead, I would like to focus on the deeper awareness that my Soul and I are one. To do this, I need to release the belief that as a human being, I am somehow at the bottom of some perfect spiritual hierarchy; and that the only reason I am here is to atone for the many mistakes I have made throughout miserable lifetimes of getting it wrong! What I want to do is to live right here - right now. I need to know that I am not a mistake. I need to know that there has been a Higher Purpose to my life. I need to know that all I have experienced - for better or worse - has value and meaning. Can you help me please?

Dear friend, I AM Saint-Germain.

One of the things that we'd like to address in today's Soul purpose reading for you, is the importance of giving yourself the time that you need to understand and work through the changes that are going on in your life right now. You are now opening doors to the revelation of profound truths in your life, and you need to take this experience and embody it in your whole being.

The fact is, you ARE here on earth now. This IS the overriding focus of your immediate experience, as a spiritual being temporarily taking human form. The simple fact of your BEING present on this planet now, IS the main purpose of your life. You don't need to search for complicated meaning. You are here - at the most fundamental level - just to experience life in this very human expression of yours.

Clearly this may sound too simplistic to a part of you that needs to hear more. Specifically, I am speaking about the mind.

The mind, when under the influence of the ego, is accustomed to hearing wild stories about needing to integrate this or that energy, heal such-and-such a wound, or please a certain group of angels before you can move on to the next level of spiritual realization. The ego places obstacles like these in your path or suggests that they are there, and then promises to remove them from your way if you will simply trust in its protection.

Continue reading
Family Relationships and Your Soul's Purpose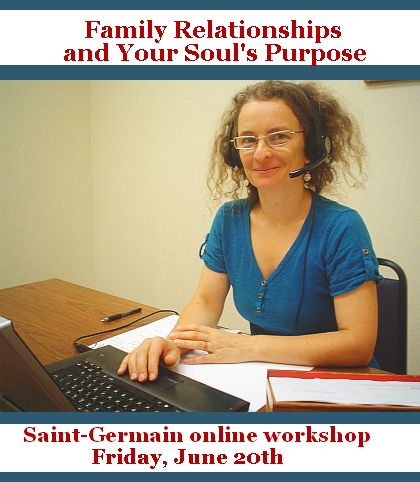 Online workshop & live channeling
with Saint-Germain & Alexandra
Joy and Clarity event

Friday, June 20th, 2014

"Remember that Love is the greatest healing force in the Universe, and it is immediately accessible to you, at all times. Call it to you now, and it will be your constant companion."- Saint-Germain

What is this workshop with Saint-Germain about?
This online workshop is about:
► Understanding why you chose to be born into your family.
► Learning how to interact with your family in a healthy, dynamic way.
► Observing old hurts from a neutral place and releasing fearful, limitings beliefs.
► Finding your resonant place within the family, a role that respects who you are now.

Read more about how you can participate on our website.
(

We'll also send you a separate email in a few days with more details.

)


Latest International Translations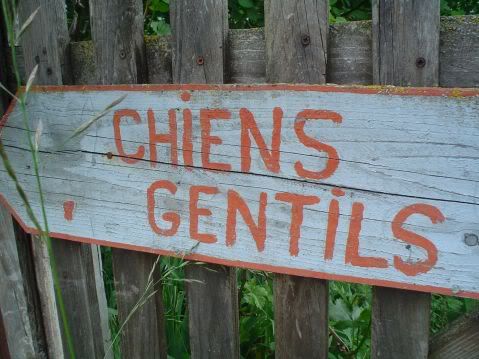 Our library of translated channelings

at

Joy and Clarity International is growing steadily. We have over 400 translations, available in 15 different languages for you to enjoy. This week we would like to thank again our generous translators for their time and effort they put into this work, and we invite you to read their (and our) work. If you read and enjoy the translated material on our international pages,

please take a moment,

and send our translators an email as a thank you. They have included their contact information, along with the translations.

Now, here are the latest posted translations of our channelings. Thank you! -- Alexandra & Dan

Français (French)
1. Êtes-vous coincé dans un monde imparfait?
2. Dispenser des soins, ou ne pas en dispenser?
3. Qu'est-ce qui vous comble en ce moment?
4. Âme Soeur ou Impasse?
Une canalisation de Saint-Germain
NEW! Les relations familiales et votre passé
Un message par Alexandra Mahlimay
Translator: Anne Duquesne
http://joyandclarityinternational.blogspot.com/2008/06/franais.html

Русский перевод (Russian):
«Застряв в несовершенном мире»
Ченнелинг Сен-Жермена
Translator: Ian Lisakov
http://joyandclarityinternational.blogspot.com/2008/08/blog-post.html

"Oletko jumissa epätäydellisessä maailmassa?"
Saint-Germain -Kanavoiniti
Translator: Pirjo Laine
http://joyandclarityinternational.blogspot.com/2008/06/suomi.html